Luis Garcia
Migrant Student Services Director
Office: C- 249 Holden Hall
Phone:
Email: garcial@msu.edu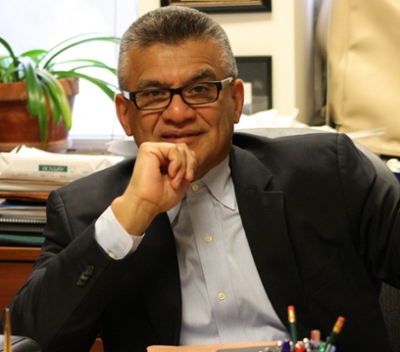 Luis Alonzo Garcia's life experiences relate perfectly to the work he does at Migrant Student Services. Raised with 11 brothers and sisters, he is from a migrant farm worker background who earned his high school diploma by attending night school. He went on to become a first generation college graduate from Ferris State University in Human Services. He served over two years with Peace Corps in South America and earned his master's degree in Continuing Education from MSU.
Currently, he is serving as the Director of MSU's Migrant Student Services and oversees its primary projects College Assistance Migrant Scholars Program (CAMP Scholars), High School Equivalency Program (HEP), and Identification & Recruitment Center (ID&R). These projects along with other initiatives and smaller grants all focus on servicing Migrant/Seasonal Farmworker (MSFW) seeking to further their education.

Luis brings enormous skills and experience to Migrant Student Services and is pivotal in identifying issues related to farmworker families and their challenges. With his extensive knowledge and strong leadership skills he works closely with MSU, and state, national and international leaders to ensure funding and engagement that supports MSFW issues but specifically advancing their education.
In his free time Luis continues to nurture the wonders of his garden and cooking with his very own vegetable and flowers. One dream of his is to teach a cooking class. Relaxing and spending time with his family is also an important activity.